03 / Apr / 2022
Having Children At Your Wedding: Pros And Cons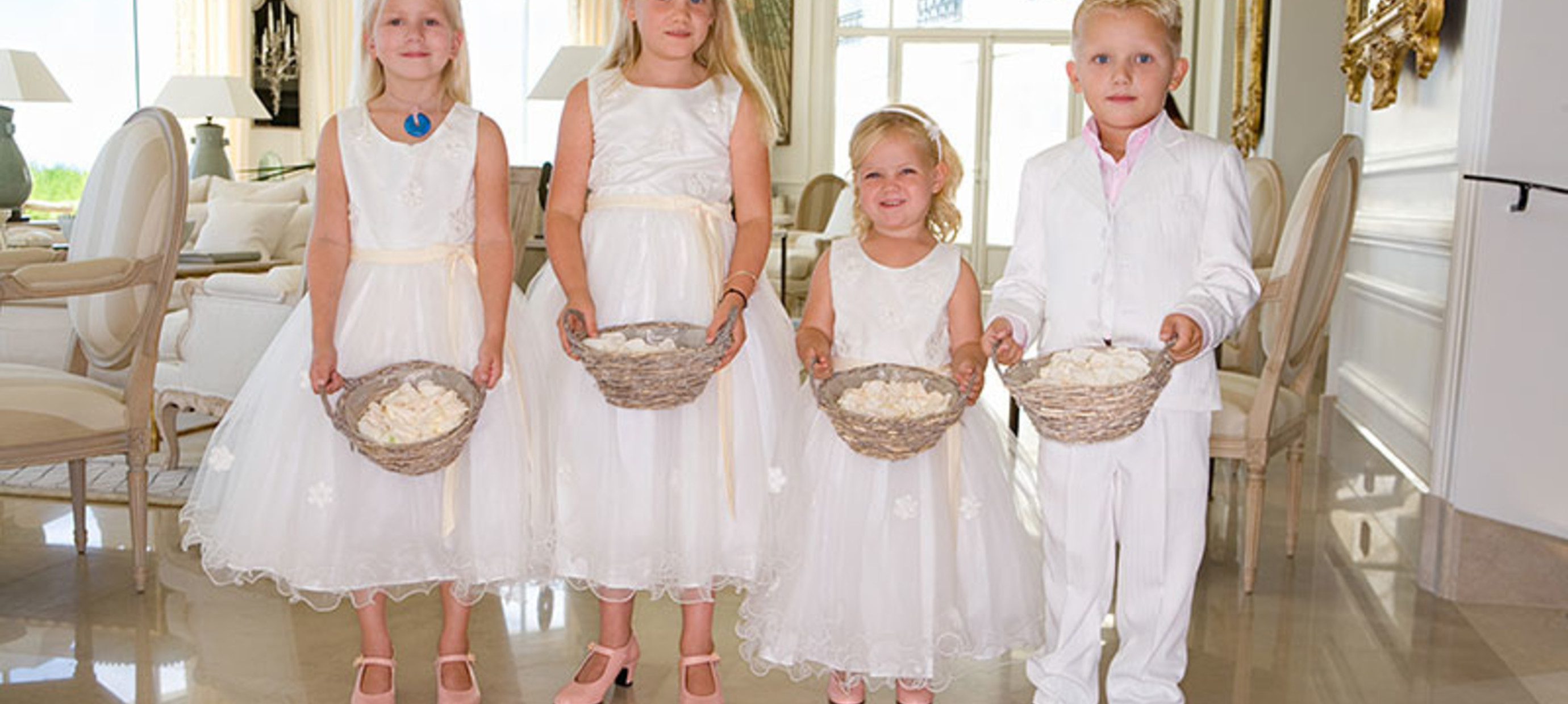 A wedding is an event that calls for festivities. While planning a wedding, the most challenging thing is to finalize the guest list. Whether to invite children to the wedding or not might give temporary stress to the bride, groom, and their families. Children are indeed fun creations, but having them at the wedding demands extra planning and management. To make the decision easier for you, here are some of the pros and cons of inviting children as guests at your wedding.
THE PRO'S
All the members of the invited family can attend the wedding.
Guests attending the wedding and their children will surely add to the festivities. It will be an opportunity for the children to make some memories. When they grow up, you will be able to recall and cherish these memories with your nieces and nephews.
Children can provide you adorable photo ops.
Your little guests can provide you with some fantastic and adorable wedding day photographs. The pretty little ring bearers and bridesmaids can give the cutest touch to your photos, and this would surely bring a smile to your face every time you go through your wedding album. Young guests dancing, twirling, and staring at the couple with their cute faces would be a perfect frame for the cameraman.
Children will keep everyone entertained!
Children are entertainers, and there is no second opinion about it. If you invite children to your wedding, you can afford not to ask any other singer, dancer, or even a DJ. Through their jaw-dropping dance moves, favorite songs, and even facial expressions and little conversations, children will keep you entertained. Every other guest at the wedding would love to have such lovely children around them. 
Children can have important roles in your wedding.
If not the groom, the bride would surely love to have some pretty little girls at her wedding. They can be the ring bearer or hold flower baskets in their hands and throw petals at the couple as they move down the aisle. Close relatives of the couple would certainly like to have their little girls as the bridesmaid. Inviting them to the wedding and their children will strengthen the bond between the families.
Children can act as a bridge to bring two families closer.
The bride and groom decided to invite the children to their wedding can strengthen the bond and enhance the affection between the two families. Older children from both families would get an opportunity to meet and know each other. Their friendship will bring the families closer in the longer run. In short, having kids at your wedding is never a bad idea, given that you have proper planning and management to take care of them.
THE CONS:
A need to plan a different menu for children.
You may have planned a detailed menu for the wedding guests, but you may need to arrange and prepare a different menu if you invite children to your wedding. Moreover, while deciding on the menu, you must keep the other age groups of children in mind. There might be toddlers and teenagers, and you would be required to decide the foods and drinks accordingly. So, this will consume more time, and other essential wedding arrangements may get ignored.
Managing the children suggests increasing the budget.
Managing a wedding budget is an art, and it requires some skills to lay the financial plan perfectly. However, if you make up your mind to invite children and other adult guests, it may push you to increase your budget. The children will surely demand entertainment sources and their specified food and drinks. The toddlers will require some daycare-like services. To meet these demands, the bride and groom will have to take some financial stress.
Parents may get worried about their children.
If you allow your adult guests to bring their young ones, things may be tense. The guests will remain preoccupied with their children and worry about their food and behavior. Parents would not be allowed to enjoy the festivities to the total capacity. The bride, groom, and their families will not be able to feel their guests' presence consequently. Parents may leave early to get their young ones to bed.
Some festivities may need to be limited in the presence of children.
Although it is fun to have children at your wedding, it forces you to limit some of your celebrations. Children are often great observers, and you would need to be very careful regarding your festivities. You have to make sure they don't get to drink alcoholic beverages, etc.
Inviting children leads to more setup at the venue.
Your guest count will increase if you decide to make your wedding children-friendly. Kids can be the source to brighten your mood every day, but at a wedding, you have to manage and control them to ensure uninterrupted wedding celebrations. You have to arrange for their proper seating plan at the wedding venue, which may allow a bit more time. You may have to pay more to your wedding planner to make the full-fledged arrangements.
Bottom Line:
Whatever decision you make on inviting children to your wedding, make sure you make it on time. It will help you in appropriately managing your wedding. Finalizing the guest lists ensures that you are very clear regarding your wedding plans. One can safely say that it is fun to have children around them, but getting them to your wedding festivities is still your personal choice, and you have every right to decide on your own.
Having Children At Your Wedding: Pros And Cons | Blog Article | Carolina Soma | Greenville SC | 2022